Concept
FutureWater biedt advies voor waterbeheerders op verschillende tijdschalen, van het dagelijkse operationele beheer van waterstanden in beken, bodems en irrigatiekanalen tot grotere strategische besluitvorming over watertoewijzing aan verschillende gebruikers en sectoren in een stroomgebied. Nu er in de meeste stroomgebieden van de wereld meer concurrentie om watervoorraden wordt verwacht en daarnaast langdurige droogtes worden verwacht als gevolg van klimaatverandering, is het nemen van goede beslissingen op stroomgebiedschaal urgenter dan ooit. Om stroomgebiedautoriteiten in staat te stellen goed geïnformeerde beslissingen te nemen, is het essentieel om modellen in te zetten die de watervraag in een stroomgebied dynamisch simuleren en de evaluatie van verschillende voorzieningsstrategieën en infrastructuuropties mogelijk maken. Het uitvoeren van dergelijke onderzoeken behoort tot de core business van FutureWater. We zijn gespecialiseerd in het selecteren van de juiste tools voor elke uitdaging, deze te gebruiken om grote hoeveelheden klimaatscenario's en interventiestrategieën te verkennen en om de output op een aantrekkelijke en informatieve manier te visualiseren en zodoende advies op maat te kunnen geven. Een belangrijke variabele waarmee bij veel van deze toepassingen rekening moet worden gehouden, is de onvervulde vraag, d.w.z. het tekort aan water dat een gebruiker ervaart door een gebrek aan aanbod onder specifieke omstandigheden. FutureWater heeft de expertise in huis om deze onvervulde vraag te vertalen naar relevante termen voor specifieke sectoren, b.v. opbrengstverlies (landbouw) of vermindering van energieproductie (waterkracht). Voor gedetailleerde studies die watervoorziening versus vraag onderzoeken, koppelen we fysiek gebaseerde modellen zoals SPHY of SWAT aan meer conceptuele modellen zoals het Water Evaluation And Planning (WEAP)-raamwerk, in een geïntegreerde aanpak die de sterke punten van de individuele tools combineert.
FutureWater-toepassingen
FutureWater heeft een gedetailleerd WEAP-model gebouwd voor het Segura-stroomgebied in het zuidoosten van Spanje, een van de droogste Europese stroomgebieden. De kaart toont de modelschematisie en onderlinge verbanden tussen verschillende watergebruikers en infrastructuur, waarbij instroom, berging en uitstroom over het model worden geëxtraheerd. Het model wordt ingezet om overheden te ondersteunen bij managementbeslissingen.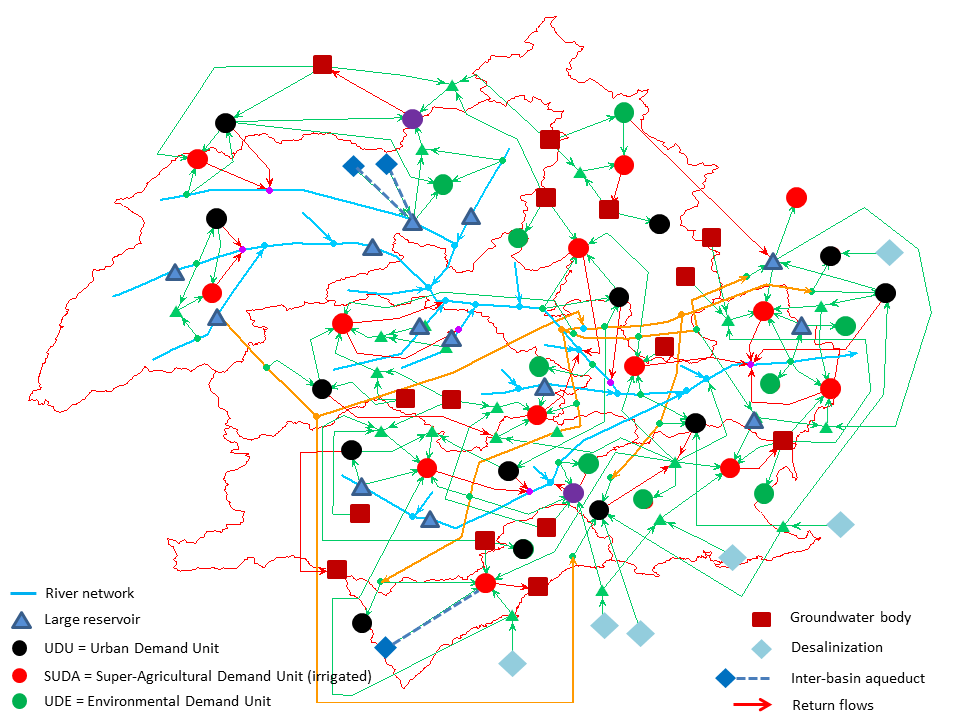 In opdracht van de Asian Development Bank (ADB) heeft FutureWater een uitgebreid WEAP-model gebouwd om advies te kunnen geven over investeringen in irrigatie-infrastructuur die zijn voorzien door de ADB en het ministerie van Watervoorraden en Meteorologie (MOWRAM). De grafiek laat zien in hoeverre de vraag naar landbouwwater wordt gedekt door het aanbod in verschillende stroomgebieden onder verschillende scenario's: uitbreiding van geïrrigeerde gebieden in de provincie Oddar Manchey (01), twee opties voor overdracht tussen de stroomgebieden die momenteel worden overwogen (02 en 03), verhoogde uitbreiding van het reservoir (04), modernisering van irrigatie (05) en versterkte teeltpatronen (06).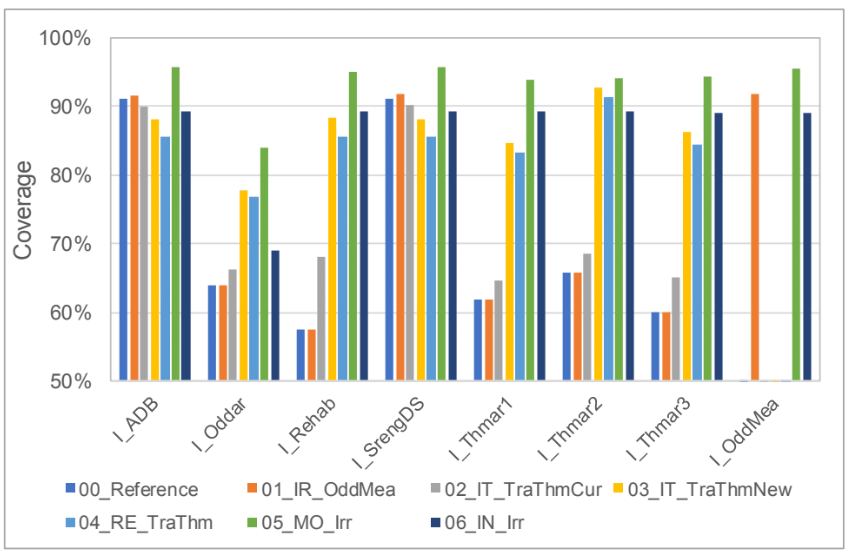 Gerelateerde projecten