Concept
Momenteel zijn er veel verschillende gewasgroeimodellen beschikbaar, ook wel agrohydrologische modellen genoemd. De modelconcepten, leidende vergelijkingen en onderliggende theorie van deze modellen lopen vaak erg uiteen.
Sommige modellen gebruiken voornamelijk empirische vergelijkingen om de processen te beschrijven, terwijl andere modellen complexere mechanistische vergelijkingen bevatten om een ​​bepaalde gewas- of bodemwaterreactie vast te leggen. De meeste modellen bevatten echter een mix van empirische en mechanistische concepten.
Voor de gewasgroei componenten van de modellen is het belangrijkste onderscheid dat kan worden gemaakt in de onderliggende vergelijkingen, of ze
straling (of licht) gebruiks efficiëntie gebasseerd,
fotosynthese gebaseerd, of
watergebruik efficiëntie gebaseerd zijn.
Afhankelijk van de benodigde analyse, onderzoeksvraag en beschikbaarheid van data moet er een keuze gemaakt worden voor een model.
De concepten achter het modelleren van de dynamiek van het grondwater variëren van het gebruik van een eenvoudig "leaky-bucket" model tot modellen die complexere algoritmen oplossen op basis van de Richards-vergelijkingen. De impact van waterstress op de groei van gewassen wordt vaak beschreven door ofwel (i) een "tipping bucket"-concept via f.e. stressreactiefuncties of kan (ii) Richards 'potentieel gedreven zijn.
FutureWater gebruikt gewasgroeimodellen in verschillende contexten en toepassingen. Het model van keuze hangt af van elk project en elke vereiste. Veel gebruikte modellen zijn bijvoorbeeld: SWAP (Soil, Water, Atmosphere and Plant), de crop module van de Soil Water Assessment Tool, (SWAT) en FAO´s AquaCrop.
FutureWater-toepassingen
Gewasgroeimodellen en satellieten
Gewasgroeimodellen bieden voorspellingen over de ontwikkeling en groei van gewassen. Satellietgegevens kunnen worden gebruikt om de gewasontwikkeling te meten door middel van indices als NDVI, Leaf Area Index (LAI) en Canopy Cover.
FutureWater gebruikt satellietinformatie over de gewasstatus om de gewasgroeimodellen te verbeteren, wat leidt tot nauwkeurigere en realistischere resultaten. Het voordeel van satellietdata is dat het lange en consistente tijdreeksen kan opleveren. Maar ook data op basis van Flying Sensors (drones) kan nuttige informatie met hoge resolutie over de gewasontwikkeling opleveren.
Canopy Cover kan bijvoorbeeld uit deze beelden worden gehaald en worden gebruikt in combinatie met waterproductiviteitsmodellen om opbrengsten en waterproductiviteit te beoordelen.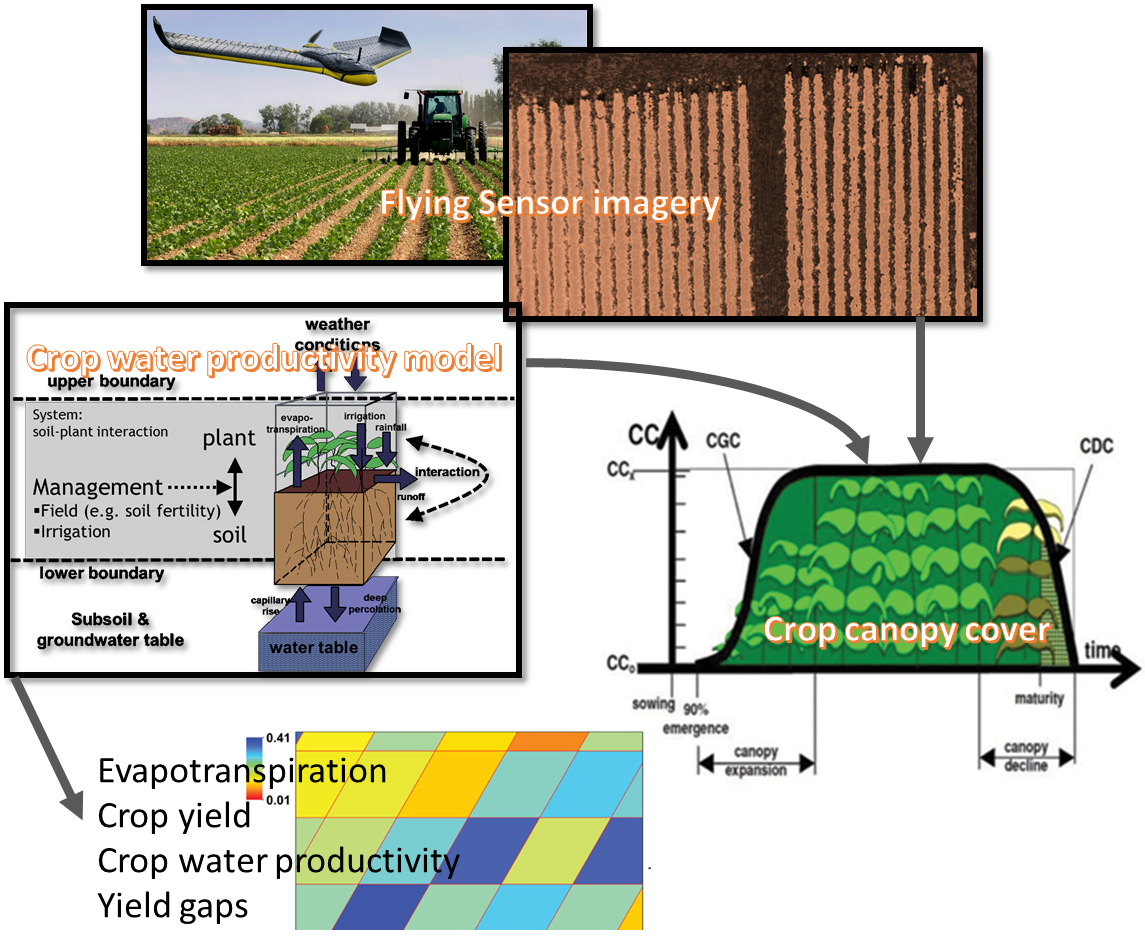 Gewasgroeimodellen en gevolgen van klimaatverandering
Gewasgroeimodellen kunnen worden gebruikt om de effecten van klimaatverandering op de voedselzekerheid te beoordelen. Om de effecten van klimaatverandering op de gewasproductie te beoordelen moet een combinatie van factoren worden overwogen, voornamelijk: temperatuurafhankelijke veranderingen, veranderingen in waterbeschikbaarheid en CO2-veranderingen die de assimilatie van biomassa beïnvloeden.
Typisch vereist dit type analyse dat een groot aantal simulaties moet worden uitgevoerd over verschillende dimensies: tijdhorizonnen, regio's, gewassoorten, grondsoorten, onder andere. FutureWater heeft dit type analyse uitgevoerd voor verschillende agro-klimatologische regio's in de wereld en voor verschillende schaalniveaus (regionaal tot globaal). FutureWater presenteert de resultaten van dit type analyse op een verteerbare manier aan besluitvormers.
Gerelateerde projecten