FutureWater proudly presents the culmination of an extensive study on climate risk assessment for key crop production in Turkey, Egypt, and Morocco. The report is a significant contribution to the CREATE project (Cross-Border Climate Vulnerabilities and Remote Impacts of Food Systems of the EU, Turkey, and Africa), funded by the European Research Area Network (ERA-Net) Cofund on Food Systems and Climate (FOSC).
The primary objective of the study was to map crop-specific climate risks under both the mild SSP2-4.5 and the severe SSP5-8.5 climate change scenarios, offering a comprehensive view of the challenges facing the agricultural sectors in these countries. The research has resulted in the integration of diverse datasets on climate change hazards, vulnerability, and exposure, creating district-level climate risk maps for Turkey, Egypt, and Morocco.
The study analyzed both annual crops (rice, potato) and perennial crops (apricot, fig, grape, hazelnut, orange, and tangerine), providing crucial insights into the climate risks associated with each crop type. The findings are crucial in understanding the cross-border climate risks on key crop production, particularly concerning the agri-food trade between the EU and Turkey, Egypt, and Morocco. They provide valuable decision support for governments, development agencies, and stakeholders, aiding in the formulation of informed actions to mitigate the adverse effects of climate change on agri-food trade.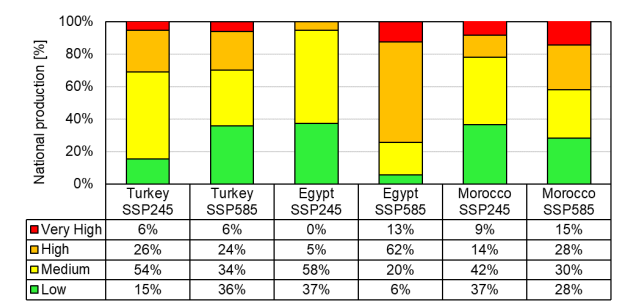 The climate risk assessment of key crops for the Agri-Food trade between Europe, Africa, and Turkey is available for download on our website.