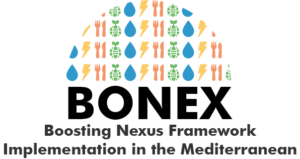 The Mediterranean Region is facing growing challenges to ensure food and water supply as countries experience increasing demand and decreasing availability of natural resources. The nexus approach aims at managing and leveraging synergies across sectors with an efficient and integrated management of the Water, Energy, Food, and Ecosystems Nexus (WEFE).
BONEX objectives are to provide practical and adapted tools, examine concrete and context-adapted technological innovations, enhance policies and governance and facilitate WEFE Nexus practical implementation that balances the social, economic, and ecological trade-offs.
The project aims at producing a novel, transdisciplinary, diagnostic WEFE Bridging Framework, which combines methods in a context-specific manner and going beyond disciplinary silos. The diagnostic tools supporting the framework will be developed and tested in seven selected demonstration projects in the region which pilot innovative technologies (agrivoltaics, wastewater reuse systems, etc.).
As a result, BONEX will provide policymakers and practitioners with an interactive decision-making tool to evaluate trade-offs, synergies, and nexus solutions approaches in a transdisciplinary manner. Further, it will produce valuable experiences with tailoring innovative WEFE Nexus technologies that provides new business opportunities. The WEFE nexus approach is required to implement sustainable agri-food systems and preserve ecosystems.
Within BONEX FutureWater will actively contribute to the package of diagnostic tools. A simple water accounting tool (REWAS) will be used to evaluate if 'Real Water Savings' are achieved with innovative technologies. The water accounting tool evaluates water flows at field level and irrigation district scale and determines if any 'real savings' are achieved. The tool also incorporates the aspects of food production (crop yield) and will introduce components for evaluating energy and water quality aspects to complement the WEFE Nexus aspects. The seven demonstration projects will be used to demonstrate and iteratively develop this water accounting tool. A hydrological analysis is performed in selected locations to also evaluate the impact at basin (watershed) scale. Eventually the results from these analyses will be translated into policy implications and achievements of SDG's (sustainable development goals).
This project is part of the PRIMA programme supported by the European Union.