FutureWater and IDOM have successfully started a new project in Panama to support the Panama Canal Authority (ACP) with the challenges of the future such as regional development and climate change in the Panama Canal River Basin. 
To meet the challenges of regional development and climate change that the Panama Canal river basin faces, the Panama Canal Authority (ACP) has launched the preparation of a land use plan. For this plan, a roadmap will be established (Green Pathway 2050) that should secure water for the population, sustains socio-economic development, enables reliable operations of the Panama Canal, and preserves the ecosystem services of the basin.
The technical cooperation offered through this project will allow the ACP and the IADB to design an intervention implementation program at the strategic and project level to promote the sustainable development of the river basin.
The project is executed in 4 phases (see Figure 1):
Diagnosis: sectoral and comprehensive characterization of the current river basin and regional planning
Prospects: a robust decision making methodology will be applied to quantify the vulnerability of the current and possible future states of the system, considering climate change, socio-economic development scenarios and climate adaptation.
Strategy development: the so-called "Green Pathway 2050" will be developed together with stakeholders, including priority actions, mitigation and adaptation strategies.
Land Use Plan: the plan will address the implementation aspects related to regional zoning, pre-feasibility studies, and a monitoring and evaluation program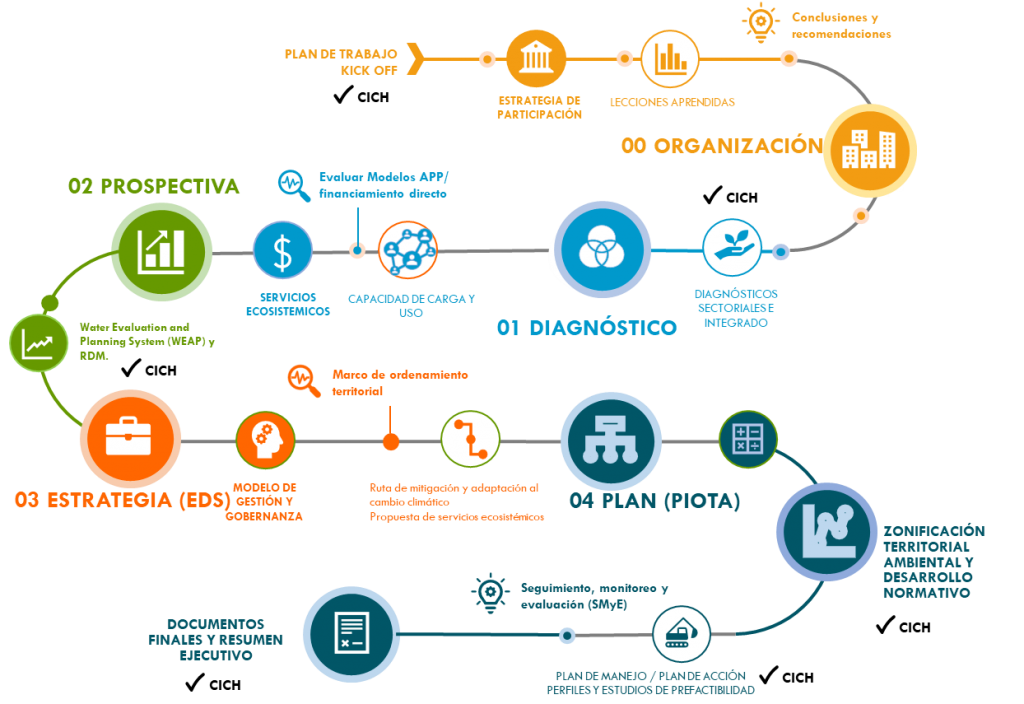 FutureWater is responsible for assessing, in collaboration with stakeholders, realistic land use scenarios considering the uncertainties imposed by climate change and non-climate factors. A Robust Decision Making (RDM) approach will be applied for this purpose. The work will include the development of a supply-demand model using the WEAP tool and a technical training of ACP staff. Climate change vulnerabilities will be assessed through a bottom-up approach, including stakeholders´inputs from the start of the analysis. The climate change-uncertainties of the land use scenarios will be visualized to stakeholders and a realistic sub-set of scenarios, including adaptation options, will be produced.