TWIGA aims at the provision of currently unavailable geo-information on weather, water, and climate for sub-Saharan Africa. This is done by:
Enhancing satellite-based geo-data with innovative in-situ sensors and;
Developing related information services that address local needs of African stakeholders and the GEOSS community.
The TWIGA days organized at the Kwame Nkrumah University of Science and Technology in Kumasi, Ghana was the second in a series of five, with the first one organised in Delft in February 2018 to get all project partners abreast with the progress of work as well as to restrategise on the way forward to achieve the project objectives – so a sort of brainstorming session. At the TWIGA days in Ghana, a needs assessment was carried out to validate our findings so far. It was geared towards starting the first 5 services among others to be provided by TWIGA. It is expected that these services will be operated from May 2019 in at least Ghana, Kenya, and Uganda.
The outcome of the meetings was a clear plan on how to move forward with the 5 information services of TWIGA. These 5 services were selected from the TWIGA proposed services including multi-index agriculture insurance, energy fluxes mapping, route planning for agri-businesses, TWIGA GNSS-NET, TWIGA SAR_WNmaps, Short-term prediction for solar energy, crop detection and condition monitoring, epidemic propagation after a disaster, weather-based alerts for citizens (farmers) among many others. FutureWater is heavily involved in investigating the energy flux mapping and crop detection and condition monitoring. This is done by making use of high-resolution UAV cameras, in close partnership with HiView.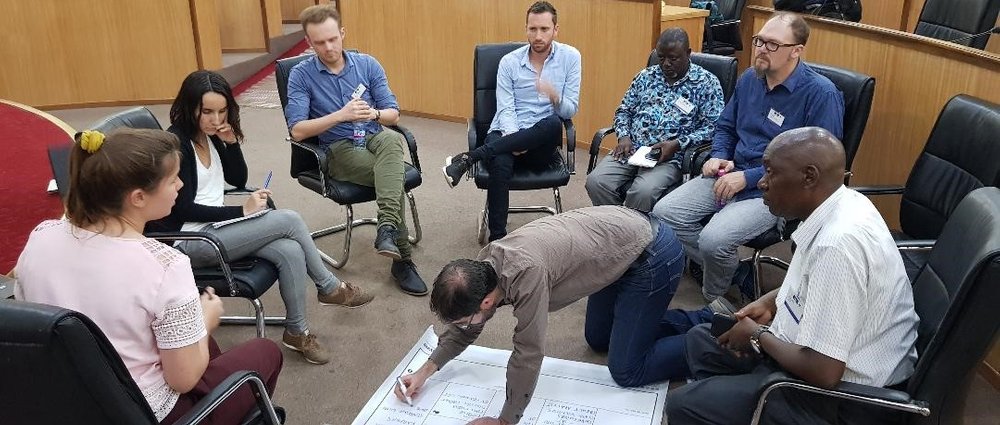 During the TWIGA Days, the executive committee together with the Advisory board met to deliberate on the achievements so far, tried to address any bottleneck identified and suggested the way forward. All work package leaders gave an update on the progress of their work with partners from 18 institutions (10 from Europe and 8 from Africa). A needs assessment workshop was organized with identified stakeholders in Ghana to validate the initial findings with regards to the required local services to be rendered by the project and how to set this up through a value chain approach. These included both science and closer-to-market services. With the needs identified, 2 developer days were organized to implement some of the services suggested using the HydroNET Platform developed by Hydrologic BV – one of the project participants based in the Netherlands. Field visits were organized to a flood-prone site and 2 farms to appreciate the potential difference that the TWIGA project can make.

Following these meetings, a one-week hackathon was organized to build some of the TWIGA sensors followed by another week of training on the use of drones for flood mapping at the KNUST Kumasi Business Incubator in Kumasi. The biggest challenge for TWIGA is how to ensure long-term sustainability with regards to the translation of high level scientific findings produced from the combination of different sources of data from satellites, UAVs and other in-situ sensors across scales into actionable information bundled with other services that last mile users are willing to pay for because they find them valuable and cheap.
Text by Frank Annor (TAHMO).