Text adopted from IMPREX.eu
Time flies when you're passionate is an apt saying to describe the three intense and productive days of the IMPREX General Assembly. The meeting was hosted by the project partners from the Technical University of Crete and took place from 26-28 September in the scenic landscapes of the Crete island.
The IMPREX sectoral survey on agriculture and droughts applies a mixture of meteorological and hydrological products in various case studies to learn from historic drought events and to better anticipate future events. The knowledge developed by the project will support risk management and adaptation planning at European and national levels.
FutureWater leads the coordination of the "Agriculture and Drought" sectoral Work Package. This WP specifically aims to study and evaluate the use of IMPREX weather forecasts and predictions, climate variability, and drought indicators to assess agricultural drought risk and impacts over four case studies and at the pan-European level.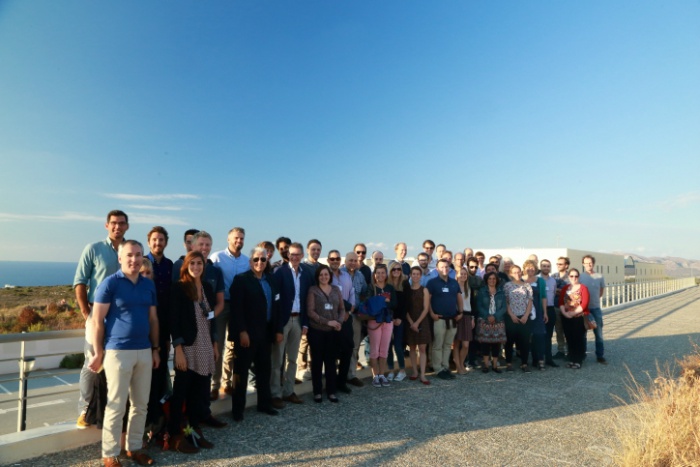 The programme consisted of a mix of presentations and interactive workshops and provided the partners an opportunity to take stock of the activities of the past twelve months and to plan the year ahead.
Over the three days, the progress of the case studies and sectoral surveys as well as questions of data flow were presented and discussed in interactive table sessions and workshops. The format and the content of the risk outlook tool to be produced were also brainstormed. The aim will be to work towards the development of a user-relevant, multi-layer tool connected to existing portals and the Copernicus programme. In addition, the partners gathered for a stakeholder workshop to collect and reflect on the knowledge gained about the user needs. Stakeholder personas were introduced and worked on, followed by discussions on how the information could be fed into the risk outlook tool so that it will meet the stakeholders' needs.
Around 50 people attended the annual meeting. The next General Assembly is scheduled for June 2017 and will be held at the ECMWF in Reading, UK.