On 27 and 28 June, IMPREX partners working on agriculture and droughts gathered in the premises of the EU Joint Research Centre (JRC) in the Italian city of Ispra. The two-day meeting provided an opportunity to review recent progress, coordinate future actions, and to establish links with relevant activities and laboratories of the JRC.
The IMPREX sectoral survey on agriculture and droughts applies a mixture of meteorological and hydrological products in various case studies to learn from historic drought events and to better anticipate future events. The knowledge developed by the project will support risk management and adaptation planning at European and national levels.
Among other presentations, the IMPREX case study leaders presented the outcomes of stakeholder consultations performed, the progress achieved so far as well as the next steps to be taken. The Jucar and Rhine River Basin cases have carried out the first stakeholder workshops and defined their risk indicators and approach. The next step will be to start developing a drought risk management tool for decision-making support. In the other case studies (Segura and Messara River Basins and Lake Como Basin), the first set-up of a seasonal hydrological forecasting system has been developed and is being partially tested.
Several links with the activities of the JRC were also established during the sessions. Among others, Gabriella Guimares from the Institute for Environmental Studies, VU University Amsterdam, delivered a presentation on the outcomes of the IMPREX work on large-scale climate variability and agricultural drought impacts. Links with the activities of the JRC's European Drought Observatory and the Agri4Cast team of the MARS Crop Yield Forecasting System were identified and potential collaboration on data and methods discussed. The JRC also expressed interest in using the IMPREX case studies for a validation of their approach with regard to pan-European water resources modelling and economic impacts.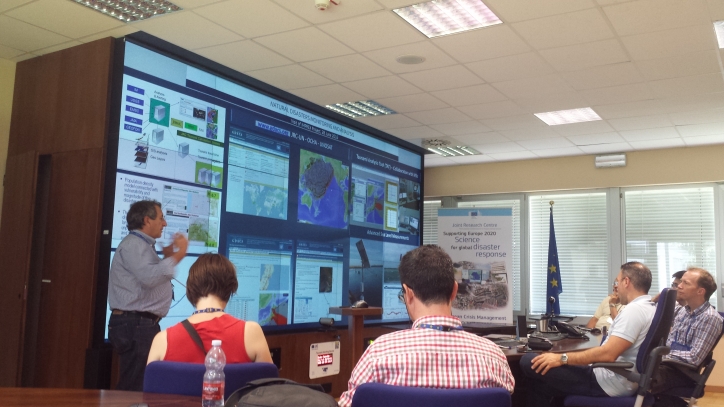 The meeting included a visit to the European Crisis Management Laboratory, a research facility which develops and tests new services for the 24/7 crisis room based in Brussels. Systems for monitoring real-time news items and developments, and a tsunami warning system were presented.
The two-day meeting drew to a close with an IMPREX coordination session during which the project partners took stock of the fruitful discussions of the two days, discussed upcoming deliverables and milestones, and agreed on action points for the coming months.